M. Tatagiba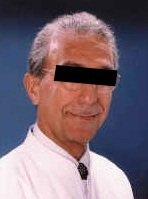 M.Samii
Prof. Dr. med. M. Samii refuses to treat patients who are victims of his medical errors.
We strongly recommend you read:
–
Prof. M. Samii OFFICIAL WEBSITE
–
Professor Madjid Samii Official Website
–
Dr. M. Tatagiba Official Website
These website are set up to provide you with the truth about medical malpractice by Prof. M. Samii and Dr. M. Tatagiba who assisted during the surgery. These sites are created by one of his patients who has become weelchair-bound and who never received any information or remedial medical care by Prof. Samii. Prof. Samii has been notified about these websites and has so far never instituted legal proceedings.Medical Errors by Prof. Samii
Confession: "I am ashamed of myself"
These are the words I deserve to hear from Prof M. Samii, this criminal neurosurgeon that ruined my life. Prof Samii has operated on me which has resulted in almost complete disability. I cannot leave my house without assistance and the wheelchair. I am dependent on strong medication to treat hypertension, heartrythm dysregulation, circulatory disorders, which cause me to pass out when I am standing more than 10 minutes, or walk more than 15 meters.
Prof Samii operated on the 24th of November 2000 on my brainstem and vertebral artery.
He was supposed to do regular surgery as agreed. Unfortunately he failed to inform me that he also performed experimental neurosurgery. I never gave my consent. When I returned to his hospital, 8 weeks after the operation, completely bedridden due to loosing consciousness after being upright for 2 minutes, the coward never dared to face me, never answered my requests for information and assistance. He abandoned me as his patient. Now it is 20 years ago. Every day I am confronted with this terrible situation that has ruined my life.
I suffer from daily headaches, I can only walk very short distances within my own house, am not able to visit friends or go to meetings. I am dependent on medication eg betablockers, anti hypertension drugs, corticosteroids. The quality of my life has deteriorated dramatically. I had to live with this condition for 20 years , which is outrageous. His peers prefer to coverup his serious medical negligence and even judges and the media support the medical Wall of Silence, that surrounds me.
Prof Samii has never been held accountable, nor his silent colleagues.
Isn't it time for this 83 year old man to make his amends?
It is unacceptable that doctors are above the law.
I call upon everyone to stand up and fight against this injustice.
Please contact Sophie Hankes at: info@sin-nl.org