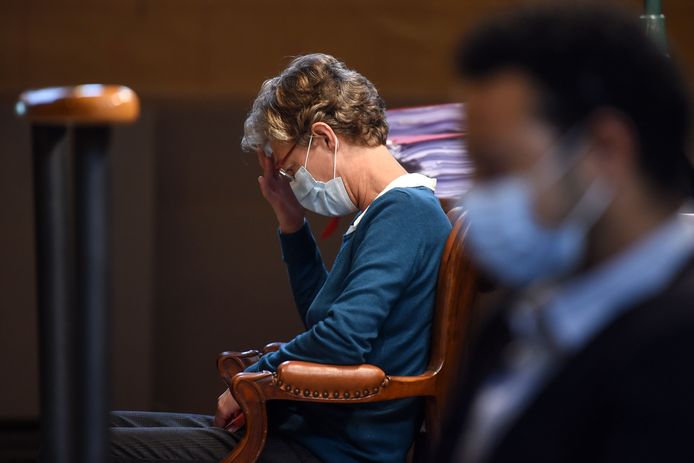 'Dronken' anesthesiste vervolgd voor dood zwangere vrouw in Franse privékliniek
Een Belgische anesthesiste staat sinds vandaag in Frankrijk terecht voor de dood van een zwangere vrouw in een privékliniek. De Britse (28) overleed volgens de aanklager doordat Helga Wauters (51) tijdens een keizersnee fout op fout stapelde onder invloed van alcohol, meldt Het Laatste Nieuws.
,,Alcoholisme was niet te verzoenen met mijn werk", gaf Wauters (51) toe op de eerste dag van haar proces in het Franse Pau. De Belgische anesthesiste staat terecht voor onvrijwillige doodslag op de 28-jarige zwangere Britse op de kraamafdeling waar ze in september 2014 werkte. ,,Ik zal dit overlijden mijn hele leven met me meedragen", klonk het.
De anesthesiste las een verklaring voor zonder de nabestaanden van slachtoffer Xynthia Hawke (28) een blik te gunnen. ,,Ik vermoed dat men de volledige schuld van dit drama in mijn schoenen zal schuiven", merkte Wauters op. Opmerkelijk, want zij was juist degene die in de loop van het onderzoek haar eigen verantwoordelijkheid vaak minimaliseerde. Zo wees ze op de gebrekkige communicatie tussen de medewerkers in de operatiekamer.
De verdachte legde uit dat ze haar alcoholisme nog steeds niet onder controle heeft. ,,Maar ik wil me zeker niet voordoen als een slachtoffer. Voor de rest van het proces (dat tot morgen duurt; nvdr) zal ik zwijgen." De anesthesiste hangt een maximale gevangenisstraf van drie jaar boven het hoofd. De vrouw, die onder voorwaarden op vrije voeten is, woont bij haar ouders in België.
Op 26 september 2014 stapelde ze onder invloed van alcohol fout op fout bij de keizersnede. Dat staat te lezen in de aanklacht.
Dokter Wauters, die stand-by was, had Hawke in de namiddag een ruggenprik gegeven. Maar omdat de bevalling moeilijk verliep, was een dringende keizersnede noodzakelijk. Toen ze terugkeerde naar het werk, rook ze volgens getuigen naar alcohol.
Toen de baby omstreeks 22.20 uur werd geboren, liep alles fout. ,,Xynthia werd wakker en begon te bewegen. Ze moest overgeven, verzette zich en slaagde erin de beademingsbuis los te trekken", getuigde een politie-officier voor de rechtbank.
Experts verklaarden ook dat de dokter, die nog maar een tiental dagen in dienst was bij de privékliniek, de spijsverteringskanalen had geïntubeerd in plaats van de luchtwegen. Daarna gebruikte ze een beademingsballon zonder zuurstof in plaats van de beademingsmachine omdat ze niet wist hoe ze die moest gebruiken.
De jonge Britse stierf vier dagen later aan de gevolgen van een hartstilstand. Ze heeft haar baby, die gezond en wel ter wereld kwam, nooit gezien.
Wauters was volgens een politie-onderzoeker een 'briljante' studente. Haar vader was gynaecoloog, haar moeder econoom. Ze raakte zwaar verslaafd aan alcohol na de scheiding van haar partner in 2005. In België was ze vanwege ernstige fouten twee keer ontslagen. Ook die werden gelinkt aan haar alcoholgebruik. De Orde der artsen kreeg daar echter nooit wat van te horen.
---
Medic was drinking before caesarean that killed Briton in France, court told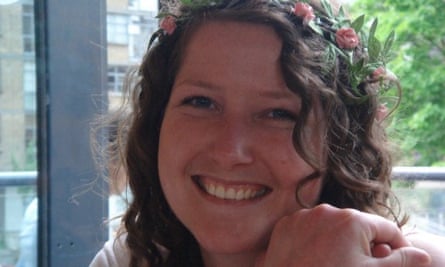 Xynthia Hawke, who died after the operation in 2014.

Photograph: Family handout
An alcoholic anaesthetist had been drinking before she botched an emergency caesarean operation that left a young British woman brain-dead, a French court has heard.
Helga Wauters, 51, is accused of pushing a breathing tube into 28-year-old Xynthia Hawke's oesophagus instead of her windpipe and failing to react even when Hawke turned blue, vomited, cried out in pain and went into cardiac arrest.
A colleague spoke of smelling alcohol on Wauters' breath and other medics said she seemed incapable of reacting even as alarms sounded in the operating theatre as the incident unfolded in 2014.
Hawke's baby was born healthy on 26 September 2014, but she was left in an irreversible coma and died four days later. The child is being brought up by his father, Yannick Balthazar, 39, who last saw Hawke lying on a hospital trolley before the operation.
Jean-Pierre Tresmontan, the police chief who investigated the tragedy, told the court: "Xynthia Hawke was described by her employer as a ray of sunshine. Her mother told us she was the daughter every mother wished to have. The 26 September 2014 should have been the most wonderful day of her life but it was the day she lost her life.
"Xynthia Hawke never knew the happiness of taking her child in her arms, never knew she had given birth to a beautiful boy, and never had the chance to say goodbye to her partner."
Tresmontan said a search of Wauters' home found 14 empty vodka bottles. A plastic bottle filled with a mix of water and vodka was discovered in her car.
The anaesthetist told investigators she need to drink before work to "stop her hands trembling". Given blood and breath tests by police at 10am several days after the caesarean, Wauters was found to be several times over the drink-drive limit.
The court was told that the anaesthetist was about to lose her job at the maternity clinic in Orthez, south-west France, because of concerns about her drinking.
Wauters admitted "part of the responsibility" for the botched operation but blamed a faulty ventilator in the operating theatre for Hawke's death. Experts later reported that the machine was in perfect working order.
Wauters, a Belgian national who is said to have been a "brilliant" medical student, admitted to police that she had a drinking problem and had spent several periods in rehab.
Investigators found she had lost two previous jobs because of her alcoholism but she had not been reported to the Belgian Order of Medicine or prevented from working as a doctor.
Wauters faces a charge of aggravated manslaughter, and if convicted she could be jailed for three years. She told the court she was invoking her right to silence but wished to make a statement in which she admitted to having been an alcoholic "for several years".
She said: "I am conscious of my part of the responsibility. My job as a doctor makes me responsible for the lives of my patients. I became a doctor to save lives. I could never imagine one day I could have done bad to anyone.
"I don't want to make myself the victim, but I was overwhelmed by this addiction that I still cannot control despite all my efforts. I accept that this addiction is inconsistent with the exercise of my profession and I should not have risked the lives of my patients."
She added: "These last six years have been hell … I can promise I have done everything I can do [about the addiction]. I will regret this tragedy all my life. I carry the death of Xynthia Hawke with me every minute. I accept my responsibility but I do not think I merit going to prison."
Hawke's parents, Clare and Fraser, from Somerset, and her older sister, Iris, 36, listened as the investigator outlined events in detail.
Hawke had wanted a natural birth but, after hours of labour, Wauters, the on-call anaesthetist at the maternity clinic, had been called to give her an epidural injection for the pain. Because the baby was large and overdue, doctors decided to carry out an emergency caesarean. Wauters, who had by then gone home and drunk wine with a neighbour, was recalled to administer a general anaesthetic.
While scrubbing up, a colleague noticed Wauters' that breath smelled of alcohol, the court heard. Once in the operating theatre, Wauters gave the surgeon the go-ahead to begin the caesarean and the baby was born at 10.22pm.
Hawke did not see the child as she was unconscious at this point. There were several medics present including Wauters as well as a surgeon/obstetrician, a paediatrician, three nurses and a midwife. But when Hawke opened her eyes, began crying out in pain and succeeded in removing the oxygen tube, witnesses say Wauters was slow to respond. When Hawke vomited, Wauters also failed to react and one of the nurses had to wipe Hawke's face and turned her head, the court was told.
Within minutes Hawke's oxygen level had fallen to around 5%, where 95%-100% is normal. When the heart monitor flatlined, setting alarm bells ringing, one of the medics present decided to call the emergency services.
Although the surgeon noticed Hawke's skin and uterus were a blueish colour, suggesting oxygen deprivation, when he made the first cut at around 10.20, and other staff reported the patient was turning blue, it was not until 11.21 that the emergency services were called. They reported an atmosphere of "panic" in the operating theatre and the impression that Wauters and her colleagues were waiting for someone else to act.
Witnesses said there was vomit in the breathing tube, suggesting it had been placed in the wrong passage, and a bruise in Hawke's oesophagus. That and the fact that she was conscious during the caesarean and had catastrophic oxygen levels also pointed to the tube being wrongly placed.
Psychological reports on Wauters found she minimised her alcohol problem and "did not accept the facts". She told investigators she had been drinking that day but insisted: "I was not drunk. I was in possession of all my faculties."
In an emotional impact statement that left many in the court in tears, Hawke's sister Iris spoke of the family's devastation following her death, adding: "Six years is too long. It is indecent and cruel to wait so long to come to court."
Iris said: "Xynthia's death should never have happened. I miss her every day of my life. Xynthia's life was put in the hands of Helga Wauters, who made the decision to come to work drunk … this decision killed my sister that night. Wauters knew she had a problem. She said she drank to stop hands shaking."
She said Wauters' decision to leave Belgium to work in France was a "self-centred, egotistical act [that] left us all with terrible consequences".
"The essential job of an anaesthetist is to keep their patients alive. She is directly responsible for the death of my sister and I want her admit it. I want her to spend the maximum time in prison for taking Xynthia's life and never be allowed to practise again."
She added: "I hope she one day combats her alcoholism and can one day apologise for what she has done."
The case continues.

————–
Drunk, anesthesiologist allegedly killed a woman during childbirth
On September 26, 2014, "like every day"in the morning for" ctry to tremble", Helga Wauters starts her day drinking vodka, then bucks in the afternoon and evening.
Six years later, Helga Wauters will be tried. The Brussels anesthesiologist is appearing on Thursday and Friday before the Pau criminal court for causing the death of a woman in 2014, asphyxiated during her cesarean delivery at the Orthez maternity hospital. She admitted to investigators to be "unable to go to the OR without drinking".
The defendant, hired a fortnight earlier, had administered an epidural to the young woman who had passed her term, then had gone out to take "a glass of rosé"with friends. But the delivery being complicated, a cesarean section became necessary. Helga Wauters, who smelled of alcohol on her return, had intubated into the esophagus instead of the trachea, causing the patient to wake up and pain. full operation under general anesthesia. Xynthia Hawke died on December 30 from lack of oxygen. Her baby survived. In police custody, four days after the tragedy, the anesthesiologist presented 2.38 grams of alcohol .
This tragic picture contrasts with the journey of a woman who had everything to succeed. Born to a gynecologist father and an economics professor mother, she joined the national field hockey team and continued her medical studies until her doctorate in anesthesiology. But over time, Helga Wauters starts drinking, especially after a romantic breakup.
From 2009, she must be admitted to rehab. Depressed, she quits. After a second cure, she found a job at the Soignies hospital in 2012. She was dismissed a few months later: called for a caesarean, her colleagues noticed that she had been drinking. Return to treatment. Then to work. But in February 2014, asked for the installation of an epidural during a cesarean, she once again proved unable to perform this gesture due to drunkenness. She is fired. Strangely, none of these very serious incidents were reported to the Belgian National Order of Physicians. A few months later, she will be hired in France without any verification of her CV.